class="cf">
Dyson, which was brought to life in a garage in England, has continued to grow since its establishment in 1993. Dyson today; It is a global technology company with engineering, research, development and testing operations in the UK, Malaysia, Singapore and the Philippines, with 10,551 patents pending worldwide. The company, which directly employs more than 14,000 people globally, including 6,000 engineers and scientists, is known for its large investments in R&D. The company has many different products. It is also a very ambitious brand when it comes to vacuum cleaners.
The importance of vacuum cleaners has increased, especially in these days when we spend more time at home. Although there are many vacuum cleaner models on the market, it is difficult to find one that can clean in real terms. Since the environments we live in are not cleaned properly, we have to breathe dust and polluted air while we are at home. These dusts spread unseen on a variety of surfaces, including floors, sofas and beds. Simple actions like sitting on the couch or walking around the house cause particles to become airborne and suspended in the air.
LASER TECHNOLOGY DEVELOPED TO REMOVE HIDDEN DUST
Dyson, on the other hand, is a technology company that is well known to many users with its investments in this field for many years. This time, the company stands out with its solution called Dyson V15 Detect. The company uses laser technology for the first time in this cordless vacuum cleaner model and offers a more powerful solution to hidden dust that standard vacuums cannot catch.
class="cf">
At this point, let's talk a little bit about how the laser technology of the product works. First of all, even if you think that you clean your house with standard vacuum cleaners, the truth of the matter is not so. These dusts, which we can express as "hidden dust" and which many vacuums cannot catch, cover every part of the house and these dusts circulate throughout the house throughout the day and we unfortunately have to breathe this dust.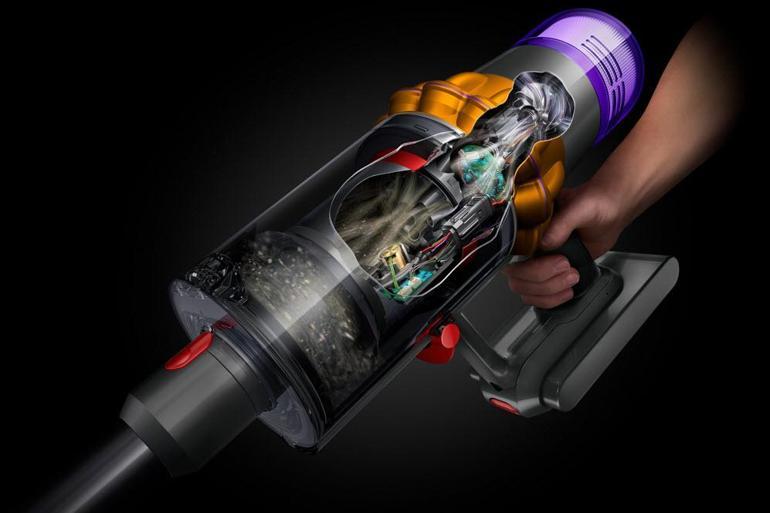 The laser technology developed by Dyson and used in this cordless vacuum cleaner offers a solution at this point. The purpose of laser technology is to reveal hidden dust. With a diode laser positioned at a height of 7.3 mm from the ground, at an angle of exactly 1.5 degrees to the cleaner head, it creates the best contrast between dust and hard ground. But just as perceiving isn't enough, Dyson's Chief Engineer and Founder, James Dyson, draws attention to this important point:
"We use an acoustic piezo sensor that converts vibrations into electrical signals and displays the size and number of particles captured on the LCD screen on the back of the vacuum cleaner, and we clean, meticulously size and count the particles 15,000 times per second."
class="cf">
The Slim Fluffy cleaning head included in the product actually comes with an important difference from the standard heads. With a width of 25 cm and threads of soft nylon and antistatic carbon fiber, this nozzle uses an integrated full-angle green laser and reveals invisible dust particles when you operate the vacuum. When you have this experience for the first time, it is impossible not to be surprised at the result. Because it is quite striking to see that the room that was cleaned just a few hours ago with another vacuum cleaner is actually full of dust. Laser technology provides such an advantage.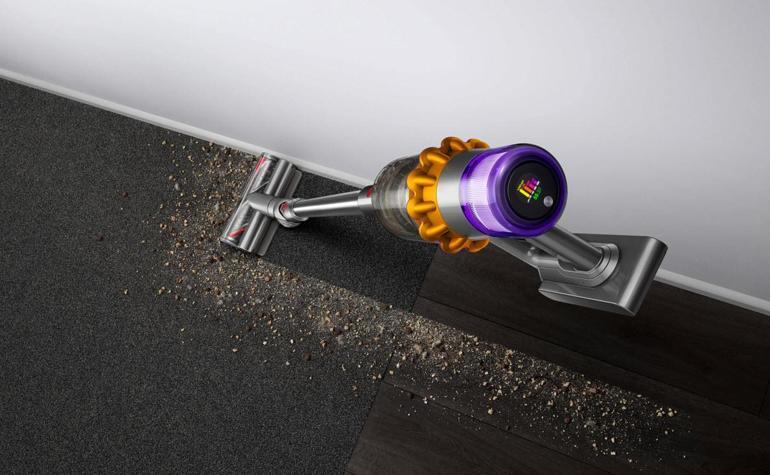 ADJUSTING ITS POWER ACCORDING TO THE DUST DENSITY
class="cf">
As we have just mentioned, it is possible to see the size and number of the pieces caught by the broom. For this, the Acoustic Dust Detection feature in V15 Detect does our job and we can access this information via the LCD screen. Piezo Sensor, which automatically increases the suction power in different ground types and dust amounts in "Auto" mode with its High Torque head, helps us by counting and measuring microscopic dust particles. Carbon fiber threads in the cleaning head collect microscopic particles that are sized and counted 15,000 times per second. In other words, when the dust enters the vacuum cleaner, small vibrations are converted into electrical signals and hit the acoustic piezo sensor at the inlet of the chamber. Thus, the dust size and amount are displayed on the LCD screen, allowing the user to see how much dust the vacuum has cleaned. An important advantage of this sensor is that it increases or decreases its power according to the dust density. When Auto Mode is active, reactive suction power is activated to automatically increase power when the sensor detects a high dust density. When dust levels return to normal, suction power drops to its previous level.
class="cf">
ENGLISH PROBLEM IS BEHIND
One of the most common problems we encounter when using vacuum cleaners for house cleaning is hair cleaning… However, Dyson V15 Detect also draws attention with its anti-tangle structure. This special head, called the new Anti-tangle Mini Motorhead, emerged as a solution to the problem of removing hair from the brush head. Dyson has developed a new anti-tangle conical brush bar that takes the hair in a spiral and sends it into the chamber. In this way, this common problem encountered in hair and animal hair was left behind.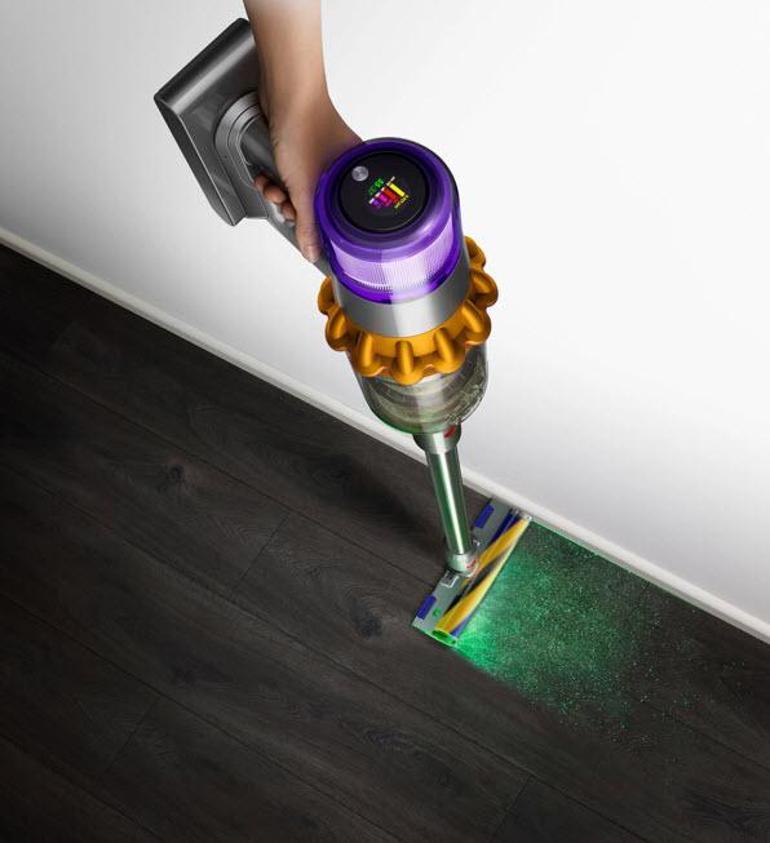 The V15 Detect High Torque cleaning head, on the other hand, now has 56 polycarbonate teeth that look like combs. The small teeth on the head automatically clean the bristles on the brush bar, preventing tangling between the bristles while cleaning, so you don't have to do it yourself.
class="cf">
Another common problem is that the house gets dirty while cleaning it. Standard vacuum cleaners, which try to pull the dust with all their power, on the other hand, leak the dust they collect without you noticing, that is, they leave it behind. At this point, Dyson draws attention with its advanced filtering technologies. Dyson V15 Detect traps 99.99 percent of particles as small as 0.3 microns for cleaner air out. Dyson cyclone technology is effective at separating dust and dirt from floors and surfaces, so sealing the entire machine means dust isn't released back into your homes.
LONG BATTERY LIFE
Dyson V15 Detect uses 3 different power modes. If you are starting a thorough cleaning, the Eco mode will do the trick for the battery to accompany you longer. Boost, on the other hand, comes to your rescue when faster and more intensive cleaning is required.
Since it is a cordless vacuum cleaner, do not think that the product will let you down while cleaning all over the house. At this point, you can actively use V15 Detect for an average of 60 minutes. However, it is worth remembering the following point: You can reach these times in Eco mode when using a head without a motor. Actual working time; Note that it varies by power mode, floor type, and/or heads used.
In addition, since a plug-in battery solution is offered, if you buy a spare battery, you can easily continue your cleaning by inserting the spare battery when the existing battery is exhausted.
HOW IS MAINTENANCE DONE?
The maintenance of the product is also very easy. The filter and Fluffy head can be easily cleaned by washing and wiping the bowl and heads. Do not forget to do this cleaning periodically in order to preserve the performance of the product.
WHEN IS IT ON SALE?
Along with the Dyson V15 Detect, which we have had the chance to experience for a while, the V12 Detect Slim model will also be available for sale at Dyson.com.tr, Dyson Demo Stores in Istanbul İstinyePark and Akasya AVM, and selected direct sales points as of September 15 (that is, starting today). is offered.
WHAT ABOUT PRICES?
The prices of the products are as follows:
Dyson Detect V15 Absolute cordless vacuum cleaner: 6.999 TL
Dyson V12 Detect Slim Absolute cordless vacuum cleaner: 5.999 TL